Our most commercial variety, this medium height, not too dense plant is the perfect combination of good yield and excellent quality.

Smokers that know and grow choose this plant for its combination of appearance and sweet smell. With its indica background Chronic can produce up to 600 g/m2 without losing that connoisseur feeling.

Grows a single huge central bud with few side branches.

Do not top plants to encourage multiple big buds, as this strain does not respond well. Mild, sweet smell develops while flowering, take care to dry thoroughly after harvest (before packaging) to maintain this subtle fragrance. 3rd prize High Times Cannabis Cup 1994, improved in 2000.

Of all our strains, this is the best choice for growers tired of losing quality when increasing yield.

| | |
| --- | --- |
| Indoor / Outdoor: | Suitable for indoor and outdoor growing |
| Plant Type: | Indica/Sativa mix |
| Plant Height: | Medium |
| Flowering Weeks: | 8-9 Indoor |
| Yield: | 350 - 600 grams/m2 Indoor |
| Harvest Month: | Mid to end Oct |
| Indoor clone grow time: | |


Chronic cannabis pic of bud from Serious Seeds

From £60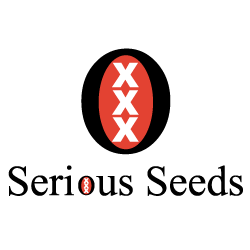 Click on the star above for more details on our free cannabis seeds offer...







Click here for our discrete Weed Seeds payment methods...





Always fast delivery with Weed-Seeds.net. Click here for more information on delivery...



All seeds are sent in very discreet packaging. Click here for more information on packaging...